NEWS
Angelina Jolie Denies Adopting a Haitian Baby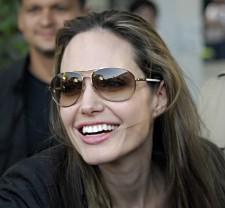 Angelina Jolie says she has no plans to adopt a baby from Haiti in an interview with CNN's Christiane Amanpour airing today, but she leaves the door open for future adoptions.
"I'm always open to children around the world. We're that kind of a family; Brad and I talk about that," Angelina says, reports Extra.
"But that's not what we're focusing on at this time, by any means. We're not here for that."
Article continues below advertisement
Angelina visited the stricken nation this week in her role as Goodwill Ambassador for the UN refugee agency.
"We're here to see how we can help protect the children in country and scale up the needs here," she said.
Angelina and partner Brad Pitt are already parents to three adopted children; son Maddox was adopted from Cambodia, daughter Zahara from Ethiopia and son Pax was adopted from Vietnam.