NEWS
Angelina Jolie on Filming 'Kung Fu Panda 2': "You Work in Pajamas & Bring Your Kids"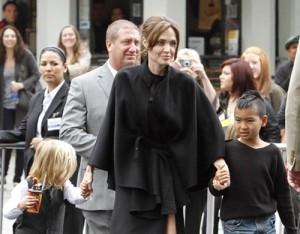 Angelina Jolie and Brad Pitt are all about family, as they showed last night at the premiere of Angie's flick Kung Fu Panda 2. The proud mom brought her brood along for the festivities at Grauman's Chinese Theatre in Hollywood and she opened up about her love for filming animated films!
When asked if she would work on more animated flicks, Angie told reporters, "I would love to do more. You come to work in your pajamas, you bring your kids, you work with Jack Black and Gary Oldman. There's no easier job in the world."
Article continues below advertisement
Brad and Angie brought along children Maddox, Zahara, Pax and Shiloh Jolie-Pitt to check out the family-friendly film.
"They loved the first one, and they're all still growing up. So the little ones don't understand, the older ones think it's cool," Angie said of her kids' reactions to hearing her voice in the film "But there's a great scene in it where they suddenly catch up with the "Furious Five" and they're all tied up. What I appreciated was that my children said, "How did they get you tied up mom?" And I said, 'That is a very good question.' "
Angie, plays the Tigress in the film, a strong-willed female.
"I like her, I have her weakness too," Angie shared. "She's tough but sometimes she doesn't know how to be soft, and my kids have certainly helped with that too. To get me a little softer, because I have a little bit of a hard shell sometimes."
The Oscar-winning actress also opened up about the messages in the new.
Article continues below advertisement
"One is about inner peace and figuring out who you are and coming to terms with that, and there is a message about what family is and how a family is made," she shared. "Today more than ever we really understand that family comes in all different ways, two mothers, two fathers, single parents, different races, some are adopted and so family is where the love is. Family is where you find loyalty and friendship.
Reporting By Amanda Champagne