NEWS
Angelina Jolie & Johnny Depp Laughed at 'Tourist' Golden Globe Nods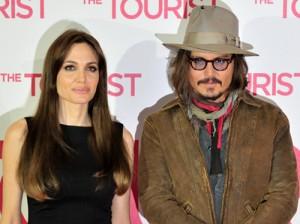 Angelina Jolie a comedic actress? A laughable concept to the Oscar-winning actress who was surprised by her Golden Globe nomination yesterday, which marks the first time she has ever been recognized in the comedy category!
Angelina, 35, told the Associated Press she and costar Johnny Depp, 47, "were laughing because it's the first time that I've been in the comedic category so it's new for me."
Article continues below advertisement
Her competition? Annette Bening and Julianne Moore for their critically acclaimed roles in The Kids Are All Right, Love and Other Drugs star Anne Hathaway and Easy A's Emma Stone.