NEWS
Angelina Jolie Opens Up About Her Role in 'Maleficent': "I've Already Got My Horns Fitted!"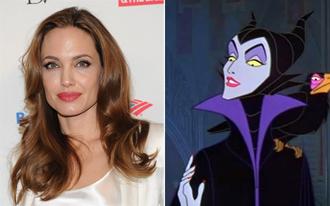 Angelina Jolie has been looking forward to playing Maleficent for a few years now, and it sounds like the time has finally come!
The Oscar-winning actress reveals to Entertainment Weekly that Maleficent will begin shooting in June, and she can't wait.
"It's a really great script. I'm having a lot of fun," Angelina explains to EW. "I've already got my horns fitted. My kids are very happy."
OK! GALLERY: ANGELINA JOLIE, SHILOH & ZAHARA LEAVE THEIR HOTEL IN AMSTERDAM "BEARING GIFTS"
Article continues below advertisement
Maleficent is a Disney movie that tells the tale of Sleeping Beauty through the perspective of her evil nemesis. But in Wicked-esque fashion, the villainess isn't what she appears to be, and neither is Princess Aurora, rumored to be played by Elle Fanning.
"It's not anti-princess, but it's the first time they're looking at this epic woman," Angie says. "I hope in the end you see a woman who is capable of being many things, and just because she protects herself and is aggressive, it doesn't mean she can't have other warmer qualities. You have to figure out the puzzle of what she is."
Angie's kids with Brad Pitt — Maddox, Pax, Zahara, Shiloh, Knox and Vivienne — are thrilled about their mommy's new role, and she can't wait for them to see it. Even though she's not playing the nicest character, Angelina feels that her children, especially her daughters, will learn something from Maleficent's story.
OK! NEWS: ELLE FANNING SET TO STAR ALONGSIDE ANGELINA JOLIE IN MALEFICENT!
"It sounds really crazy to say that there will be something that's good for young girls in this, because it sounds like you're saying they should be a villain. Maleficent is actually a great person," Angie confesses. "But she's not perfect. She's far from perfect."
As for whether or not her costume will resemble that of Maleficent's in the animated film, Angelina says she's not sure yet. "We're still figuring out the look. We're experimenting with different things," she reveals. "But the horns are the horns — you can't deny them. You have to have horns."