NEWS
Angelina Jolie Supports Kony 2012 Campaign: "His Time Has Come"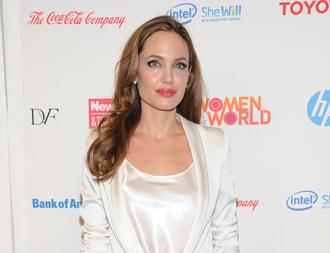 Angelina Jolie was one of the celebrities that the viral Kony 2012 campaign YouTube video targeted to ask for help in putting a stop to Ugandan warlord Joseph Kony, and she's know announcing her support. The Oscar-winning actress and Goodwill Ambassador for the United Nations spoke out against Kony at the International Women's Day event in New York.
OK! GALLERY: ANGELINA JOLIE COVERS UP HER LEGS AT THE WOMEN IN WORLD SUMMIT 2012 IN NYC
Article continues below advertisement
Kony is accused of kidnapping and enlisting thousands of children into his militia. A 30-minute YouTube video posted by the Invisible Children charity about starting a Kony 2012 campaign to arrest the warlord raised $5 million in just 48 hours, The Guardian reports.
During the Women's Day event, Angelina said of the campaign, "I've been to Uganda and Congo and been to the international criminal court myself.... He's the one we all want to see in jail, so I think it's great that more people are talking about it."