NEWS
Angelina Jolie Talks About How Brad Pitt Ended Up Walking With A Cane! Who Was He Protecting?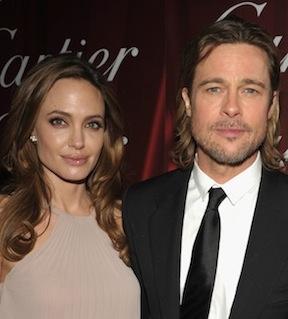 Angelina Jolie and Brad Pitt walked the red carpet together tonight at the 23rd Annual Palm Springs International Film Festival Awards in Palm Springs, Calif.
The actor was honored at the gala with the Desert Palm Achievement Award for his roles in Moneyball and The Tree of Life. And while it was an exciting night for the actor, he was still limping along with a cane from an accident he had recently, and Angelina has revealed more details about what exactly happened. He was protecting daughter Vivienne from falling!
Article continues below advertisement
OK! NEWS: ANGELINA JOLIE BUYS BRAD PITT A WATERFALL FOR CHRISTMAS
"Everything becomes such a huge thing doesn't it? Vivi's okay. She was absolutely fine. He took the fall. It was just to make sure," Angelina tells OK!. "When Maddox was younger, I took a fall and cracked my elbow because I wanted to make he wasn't injured." Aww, what protective parents!
Angie can't recall if that ever happened when she was young, "My mother's not alive. I couldn't ask her. Every parent will stand in the line of fire for their kids. It's quite a normal thing."
But is Brad letting Angie help him do things around the house? No way! "He's not that kind of guy. He does everything still. I like the cane!"
OK! GALLERY: ANGELINA JOLIE CRAFTS WITH THE KIDS IN LONDON
With Brad getting such an honor tonight, Angie admitted that she is most proud of Brad "when I see his films."
As for Angie's next project, many wonder if she will write another script after the critical acclaim of her new film, The Land of Blood and Honey, which she wrote and directed. "It's such a weird thing, I sit down to write something, and I can't believe it's become a film. I do have a pile of things that I haven't shown anybody including one on Afghanistan. I'll let you know if anything comes of them."
And with both Brad and Angie going into a busy awards season, how are they preparing?
"We're focusing on birthday parties tomorrow for Zahara and other things in life. Just as much if not more."
Sounds like with six kids and busy careers, they really have managed to balance it all.
Do you think Brad and Angie will have more kids?
Reporting by Gena Oppenheim