NEWS
Angelina Jolie Visits Refugees in Thailand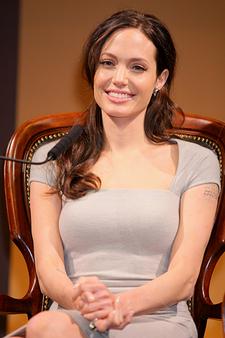 Beyond her duties as a movie star and mother (she's ), Angelina Jolie has pledged herself to the cause of refugees across the world, as the United Nations High Commission on Refugees Goodwill Ambassador, according to an article on their site..
Yesterday the mom of six spent time listening to refugees from Burma (Myanmar) in a camp in Thailand, as they told her of the hardships they suffer living away from their homes.
Article continues below advertisement
"I was saddened to meet a 21-year-old woman who was born in a refugee camp, who has never even been out of the camp and is now raising her own child in a camp," Angie said after her visit to Ban Mai Nai Soi camp, home to 18,111 registered refugees. Those in the camps aren't allowed to leave to find work or go to school.
"With no foreseeable chance that these refugees will soon be able to return to Burma (Myanmar), we must find some way to help them work and become self reliant," she said.
Most of the refugees in the camps on the Thai/Myanmar border are of the Karen minority, which has been facing violent civil rights abuse.