NEWS
Angelina Jolie Wanted by the Russians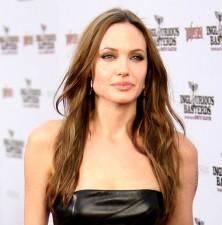 Angelina Jolie, expect a job offer soon! Nikita Mikhalkov, Oscar-winning Russian filmmaker, is getting ready to shoot a new WWII drama and is determined to have the mother-of-six to play the main role, it's being reported.
The film, titled Love and War, is based on a love story between three soldiers from Romania, Russia and Italy and three girls from a Moldovan village.
Angelina has been invited to play a school teacher, who has witnessed the executions of her family and whose fiancé was killed during the beginning of WWII.
Article continues below advertisement
Production will begin in Spring 2010 once Nikita completes Burnt by the Sun 2, a sequel to the film that won the Oscar in 1994 for Best Foreign Language Film.
Love and War will be a joint Russian-Italian-Moldovan project meaning Italian and Moldovan directors Francesco Gagliardi and Valeriu Jereghi will also be involved.
Right now, the directors are waiting to hear Angelina's response.
"The script has already been sent to Angelina and we are waiting for her answer," said Francesco.