NEWS
Angelina Jolie's Kids Love her Movie Stunts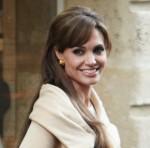 Motherhood has made Angelina Jolie a movie daredevil, inspiring her to do tougher film-set stunts — because her kids think its cool.
The Salt star has prided herself on performing her own stunts and being a mom to six children isn't going to change that.
"The funny thing about having children is that now I am twice as motivated to do a cool stunt because my kids will like it," she tells Entertainment Weekly via Huffington Post.
Article continues below advertisement
And her latest movie, about a CIA agent accused of being a Russian sleeper spy, called for a lot of tough action scenes. "I had just had two babies, and the push to be physically strong was very welcomed at the time," says Angie, who is currently filming The Tourist with Johnny Depp.
Meanwhile, she would love to do another movie with her real life leading man, Brad Pitt.
"I love working with him," she said. "He's my favorite actor to work with, and the only complicated thing is to find the right project."