NEWS
Angelina Jolie's Mighty Heart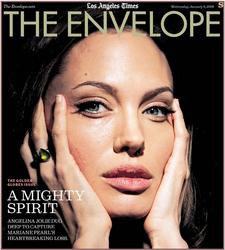 Angelina Jolie has a great partner in Brad Pitt when it comes to sharing responsibilities for their four children.
"I think you need at least to look at that other person and share the lack of sleep and insanity," she tells Los Angeles Times' The Envelope, out on Jan. 9. "And then it becomes fun."
One thing that she could not share with her beau was the preparation needed to play Mariane Pearl, her dear friend and another strong woman, in A Mighty Heart. "It was one film I've done where I'd lost sleep and didn't think I could do it," Angelina explains.
Article continues below advertisement
Having faced the own death of her mother, Marcheline Bertrand, who suffered through a seven-year battle with ovarian cancer, Angelina could not fathom the loss Mariane experienced. "My thought was, 'My God, Mariane went through such unbelievable horror,'" she says.
Though Angelina reviewed hours of Mariane's interviews and studied her body language, she never questioned the now-single mother about the tape of Daniel's beheading. "I never asked her to describe how she responded," Angelina recalls. "I just tried to understand what the loss was and then tried to interpret it from what I understood that was."
Not only did the story of Mariane intrigue Angelina because the two women are so alike, but her maternal instincts kicked in and she felt she owed it to Adam, Mariane's now five-year-old son. "All I could think about was I have this opportunity to show this little boy how much his mother loves his father."