NEWS
Angelina's Family Pain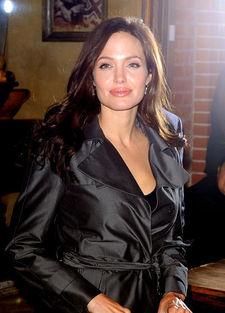 In his new film Four Christmases, art seems to imitate life for Jon Voight. The actor tells his on-screen daughter Kate (Reese Witherspoon), "I have had a lot of experience bending the truth to avoid my family. Years, several divorces...I learned that nothing really beats being honest, honest about who you are, what you need. All the rest tends to work itself out."
Truer lines could not have been written for Voight, who's character laments, "Not long ago, I wouldn't have been able to put this group of people together in my wildest imagination. Changes we've all been through, hurts we've given each other we hope we're forgiven for them."
Article continues below advertisement
Perhaps Jon, 69, was thinking of his relationship with his real-life daughter, Angelina Jolie, 33. The two have been estranged since 2002 when Voight described his daughter in a TV interview as having serious mental problems.
So far Angelina's partner, Brad Pitt and self-proclaimed family man, has had no luck reuniting father and daughter.
"From the wonderful relationship he has with his parents and with the kids, Brad clearly puts family before everything," an insider tells OK!. "He wants a complete family, and that would certainly include is children's grandfather."
In 2006, OK! reported that Brad, 44, met with Jon in Calgary, Canada, where both were filming, to encourage a reconciliation. Last May, Angelina revealed, "We have spoken recently, and we are going to try to get to know each other and maybe try not to be this daddy and daughter, but to be there for each other as friends in the future."
But now, with the holiday season under way, and Angelina's recent public breakdown over her mother's 2007 death, the possiblity of further patching up this bond looms larger. Jon tells OK! he hopes to see his grandchildren, Maddox, 7, Pax, 5, Zahara, 3, Shiloh, 2, and 4-month-old twins Knox Leon and Vivienne Marcheline, for Christmas.
CLICK HERE for OK!'s Ultimate Angelina Gallery!
While Angelina has reservations, "she has agreed to allow at least one phone call between Jon and the kids," a source tells OK!. "Brad hopes Jon and Angelina will be able to reconnect. His thought is, you only get one mother and father. Even if they are not the best, they are still your family."
For the full story on Angelina's family pain, pick up the new OK! — on newsstands everywhere on Thursday!