NEWS
Angry Wife Tells Star: Kim Kardashian Stole My Husband!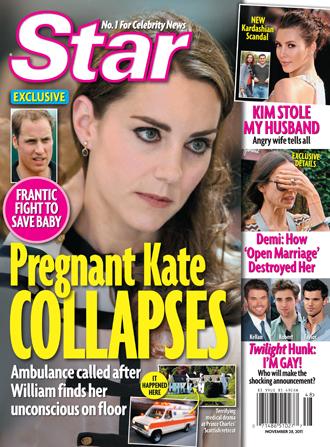 Two days after her Oct. 31 divorce filing against Kris Humphries, her hubby of 72 days, Kim Kardashian swore in an interview that she had wed Kris "for love," while reassuring the public that she respects the sanctity of marriage. But try telling that to Zuzana Deane, who says Kim fell for her husband, Australian body guard Shengo Deane, in 2010, then whisked him away to the U.S., where he became her on-screen and, reportedly, off-screen lover.
Article continues below advertisement
OK! NEWS: BRITTNY GASTINEAU & KIM KARDASHIAN NO LONGER BFFS?
"In my eyes, I was happily married to Shengo when he and Kim met," Zuzana, 26, tells Star in her first exclusive interview about the scandal. "Less than two weeks later, he told me he didn't want to be married to me anymore, and then he ends up in her arms in Los Angeles. It was a whirlwind. I don't know what Shengo initially told her about his situation — he's handsome and charming, and I can see where Kim would be smitten. But it was all a shock to me."
Zuzana was working as a casino dealer on a cruise ship when she met Shengo, 31, in 2006. "There was an instant attraction," she tells Star, and they were married in Sydney in January 2007.
OK! NEWS: KRIS HUMPHRIES — HIS SIDE OF THE DIVORCE STORY
The following year, Shengo was an extra in the Nicole Kidman/Hugh Jackman epic Australia, "and I got the acting bug too," says Zuzana. With Shengo's encouragement, she got a coach and took acting classes, then got accepted to an acting school in NYC. "I moved to NYC in February 2010 for a one-year stay, and Shengo was totally supportive," says Zuzana, who showed Star an e-mail from Shengo in late March, in which he makes plans to visit her in the summer.
"But it never happened — thanks to Kim, 31, says Zuzana.
FOR MORE ON KIM AND SHENGO'S HOOKUP PICK UP THIS WEEK'S ISSUE OF STAR — ON SALE EVERYWHERE NOW!