NEWS
Angus T. Jones Misses Charlie Sheen but Has Already Bonded With Ashton Kutcher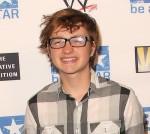 Article continues below advertisement
In fact, Angus told OK! he's already bonded with Ashton on set. "Yeah for sure, he's a really nice guy." And if you think things may feel differently on set with Charlie out and Ashton in, think again.
The show must go on as he assured reporters at the WWE and The Creative Coalition Present "be a STAR" Anti-Bullying Alliance event in L.A., "It's more or less the same. It's just Ashton's there instead of Charlie." In addition to working with Ashton now, there are perks to having his new co-star on board. Angus has also been able to meet Demi Moore on set! Angus noted that "she's a really nice person."
OK! NEWS: TWO AND A HALF MEN SEASON 9 OPENS WITH CHARLIE SHEEN'S CHARACTER'S FUNERAL?
Although he's adjusted to the change, he does indeed miss Charlie. "For sure I miss Charlie," he said. "I talk to him every now and then. I still want to hang out with him and stuff. We're still friends, it's not, no hard feelings at all."
With the highly anticipated funeral scene for Charlie's character, Angus kept his lips sealed tight. He told OK!, "People have been telling me about this funeral scene. I have no idea. I don't know what that is."
Reporting by Gena Oppenheim