NEWS
Charlie Sheen Is "Rooting Hard" For Ashton Kutcher on 'Two and a Half Men': "He'll Kill It"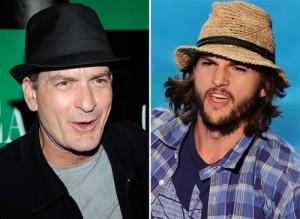 Charlie Sheen has nothing but praise and words of encouragement for his Two and a Half Men replacement Ashton Kutcher, despite his soured relations with Warner Bros. and Men producer/creator Chuck Lorre. The 45-year-old actor took some time in L.A. on Monday to share his thoughts about Ashton's debut.
"Ashton is going to kill it," Charlie told paparazzi on camera, via Radar Online, Monday in L.A.
Article continues below advertisement
And despite his dramatic dismissal from the hit CBS sitcom, Charlie still plans to tune in on Sept. 19, for the premiere of season 9, to watch what is reported to be the funeral of his character, Charlie Harper.
"Who is not going to watch?" he asked the cameramen excitedly. "I'll be there front and center, I'm just as curious as everybody else. It should be fun."
Charlie added that not only will Ashton "kill it," but he will serve as a great replacement.
"I'm actually rooting hard for him, that worm is turning. It should be exciting," he told Radar Online. "I've got nothing I can reveal because they wouldn't even give me a script! They didn't trust me, it will be a nice surprise, I think Ashton is going to kill it."
He added, "It'll be nice to know that they get some carry-over ratings from people being sort of curious about what happened to their guy."
Article continues below advertisement
Charlie also spoke about his roast on Comedy Central, which will premiere after Ashton's debut.
"And the same night at 10 p.m. the roast is on, it should be a big night," he said "I think it's going to be epic, I got a taste of it on the road, I got roasted a few times out there. I think it anyone should be roasted in that manner, it should be me."
Will you be tuning in to both Men and the roast? Sound off in the comments.