NEWS
Anika Noni Rose Thrilled to be Zahara's Role Model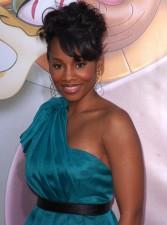 Anika Noni Rose shot to international acclaim in Dreamgirls, and she returns to the silver screen as the voice and inspiration for Disney's first black princess in The Princess and the Frog, which is in theaters now.
Angelina Jolie has spoken about how she's ecstatic that her four-year-old daughter Zahara will have a role model thanks to the barrier being broken.
What's her response?
"It's wonderful," Anika, 37, tells me at NYC's Le Parker Meridien Hotel. "I think every little girl should be able to feel themselves the princess. I think every little girl is worthy of having a princely young man, and vice versa. It's really thrilling that Zahara will never have a moment where she didn't see herself in that light. She's Ethiopian. She comes from kings and queens. She should certainly know herself as a princess."
Article continues below advertisement
In real life, the Tony winner is looking for a real prince.
"Gilles Marini is pretty magnificent," Anika tells me. "He's very ethereal looking. He looks like a forest creature. He's unreal looking. Just ridiculous. And Blair Underwood's spirit is lovely. I really think that he is a beautiful person all around, inside out."
But it's not easy to please this real-life Disney princess, who names intelligence and wit as her dream man's top characteristics.
"He must read," she says. "It is important to me that people treat the people around them with a modicum of respect no matter what we think their stations in life might be. It is important to me that we be able to communicate clearly. And it is important for this person to be able to hold their own in a room. I don't think people need to be attached at the hip all the time. And they would have to understand the crazy business that I'm in, somehow. It's hard for people who aren't in the business to understand it, but they would have to be open to understanding that this is very demanding, and just because someone isn't home doesn't mean they don't care."
Article continues below advertisement
She continues, "All those things are important, but they also have to be spontaneous, they have to like to travel – because I love to travel – and when they travel, they can't be content to just be on the beach. You can be on the beach for a few days, but then you have to be willing to climb a tree and swing across on a wire and then repel down. Those are things that have to happen on a vacation, so adventure – I like to do adventure and zen in varying degrees."
For now, Anika is enjoying the perks only a princess is provided, which include her own doll, Princess Tiana Show and Jublilee at both Disneyland and Walt Disney World, and a forthcoming restaurant called Tiana's Place at Walt Disney World.
"It's an amazing presence to have in something in a Disneyland park," she tells me. "You don't stop being a princess because the movie got vaulted for awhile; you're a princess for life. That's an amazing thing."
Article continues below advertisement
Plus, she enjoys treating her nephew to surprises.
"I love bringing my nephew to the park and having a guide to bring you around," she says. "I didn't even know people got guides in the park. And you don't have to be – apparently anybody can get a guide, you can pay for a guide, and it makes the park much easier. But to be able to bring this little boy – we went to Disney World. He had already been. He went for his second birthday, but then auntie brought him back, and we did it my way."
She continues, "His little face – his mouth was in a perfect 'O.' He was watching the fireworks and the parade, and he was sitting on top of my brother's neck, and his mouth just looked like 'ooh.' He looked like an angel with his ears on. And he loved it. I was so tickled to be able to bring him back and do the Magic Kingdom – and we did it in a morning. You know how you see Sleepy Child in the park? Sleepy Child is never a happy thing, and Parent of Sleepy Child in the park is even less of a happy thing. I was really glad that he had two very fantastic but very different Disney experiences. It really thrills me to be able to say 'auntie's got a special trip for you, let's go.'"
The Princess and the Frog is in theaters now.