NEWS
Anissa Weier Admits She 'Made A Deal' With 'Slender Man' Before Trying To Kill Friend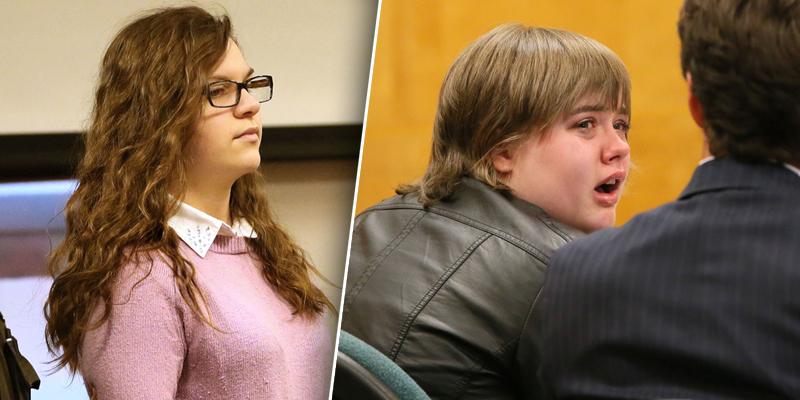 In 2014, 12-year-old students Morgan Geyser and Anissa Weier made a deal with fictional character Slender Man, promising to murder classmate Payton Leutner in order to prove their loyalty to him.
They took her to the woods one day and Geyser stabbed her with a knife repeatedly, with Weier leading her on. Miraculously, Leutner survived, but it's the girls' chilling confessions what terrify Americans until this day.
Article continues below advertisement
REELZ's new docuseries, Slender Man Stabbing: The Untold Story, gives new dark details about the brutal crime, showing clips of the troubled girls' confessions and shocking interviews with professionals close to the case.
"What authorities told us from the start was fairly straight-forward, surprisingly, and it was hard to believe. They told us three girls who were all 12-years-old went out in the woods, two of them conspired to kill the third," recalls Milwaukee Journal Sentinel reporter Bruce Vielmetti in the show teaser.
"I might as well just say it, we were trying to kill her," Geyser is heard saying during an old clip from her interrogation.
"I kind of, sort of made a deal with Slender saying that if we didn't kill Bella, that he would kill our families," says Weier in hers.
"This could be my daughter," says detective Tom Casey, clearly in shock over the horrific case.
Radar readers know Slender Man is a made-up Internet character that is often associated with kidnapping, torturing and traumatizing kids.
Article continues below advertisement
"It really juxtaposes this horrible thing that they've done with how young they are," says forensic psychologist Melissa Westendorf.
Weier and Geyser were both ordered to years of mental health treatment after prosecutors realized the pre-teens felt no remorse for their crime.
Recalling the first time he heard of the girls' attempted murder, Geyser family friend Mike Correll says: "You're having some dinner and you're watching the news and 'Oh my god, what is our world coming to?'"
"We know that there are evil people in the world, is she evil?" says trial consultant Amy Singer.
Slender Man Stabbing: The Untold Story airs January 26 at 8 ET / 7 PT on REELZ.