NEWS
Anna Kendrick Dishes on Putting George Clooney in Check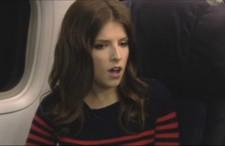 Anna Kendrick must feel like she's floating on a cloud of success! The Twilight Saga star is already receiving Oscar buzz for her role opposite George Clooney in Up in the Air. Anna holds her own with George, and even puts him in check a few times. "In a way it was sort of a release of all of the kind of pent-up things that I ever wanted to say to anybody, that I never got to," Anna tells ComingSoon.net.
Article continues below advertisement
"If you get to yell at George Clooney on a boardwalk in a film, it's quite cathartic," the 24-year-old actress quipped.
A Tony nominee at age 12, Anna made an impression on Broadway in a 1998 production of High Society. She earned more praise for 2007's Rocket Science, which preceded her biggest movies to date, the Twilight series, where she plays Bella's needy friend Jessica.
Anna knew on the set that Up in the Air was something special, she tells MTV at the L.A. premiere of the flick last night.
"For me, the day we shot the scene with me, George and Vera was really special," she tells MTV. "I'd been working with George for, like, two and a half months, and I'd gotten used to his celebrity; you know, he was old news. And then we got Vera Farmiga in there, and I was able to sit across from the two of them and watch them work after we'd done my side of it. That was a definite pinch-me moment, to be sitting across from such talented people."
Article continues below advertisement

Many people involved in Up in the Air might have a shot this awards season, however, Anna is proud of the movie, and does not take the award buzz to seriously yet.
"I'm so proud of this film," Anna says. "And now it's somebody else's job to worry about all the buzz and the box office."
However, for the next couple of months the possible Best Supporting Actress on many red carpets dressed very differently from the tank-top-and-jeans outfit she used to wear for interviews.
Despite the makeover, Anna promises to remain true to herself.
"I'm trying, man. You should see my apartment; it's still a nightmare," she tells MTV. "It's such a painful irony to try and scrub up like this, to look very put-together and elegant."