NEWS
Anna Kendrick Was Starstruck When She Met Jennifer Lopez on the 'What to Expect' Set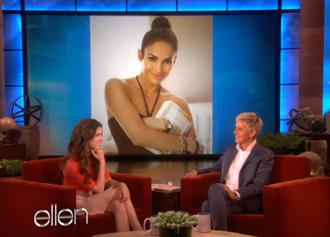 Anna Kendrick may be an Oscar-nominated actress, but when it comes to meeting A-list celebrities, she can't help but be starstruck.
And that was the case when Anna got the chance to briefly meet and work with Jennifer Lopez on the set of their new movie What to Expect When You're Expecting, which hits theaters on May 18. The adorable actress sat down with Ellen DeGeneres and revealed that she was in fact "creeping" on J.Lo during a shoot in Atlanta, Ga.
Article continues below advertisement
OK! GALLERY: CAMERON DIAZ, CHACE CRAWFORD & MORE STEP OUT FOR THE WHAT TO EXPECT WHEN YOU'RE EXPECTING NYC PREMIERE
"I worked mostly with Chace Crawford but everyone kind of interacted for a second because our storylines intersect," Anna explained to Ellen of her co-stars, which include Cameron Diaz, Matthew Morrison, Brooklyn Decker, Dennis Quaid, Elizabeth Banks, and of course, J.Lo.
"There was one night where I crossed frame with Jennifer Lopez... and I was all excited," Anna continued. "They flew me into Atlanta just to film this one part and Jennifer was actually in the middle of her most intense scene in the movie where everything is sort of falling apart."
"We met.... and obviously she was very lovely and then she went to do her thing, so I pretended to keep my distance," Anna confessed.
"But you didn't?" Ellen asked.
"No," Anna revealed, smiling.