NEWS
Anna Nicole Smith Descends on Britain's Royal Opera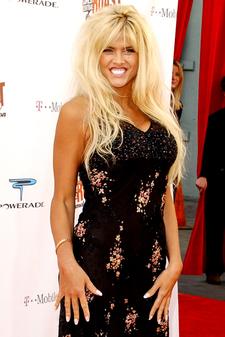 Britain's Royal Opera House has dropped a blonde bombshell on the world of theater!
According to E! News, the opera house plans to develop an opera based on the life of Anna Nicole Smith.
"It's not going to be a horrible, sleazy evening," Elaine Padmore, director of opera at London's Convent Garden, where the show will be staged, told British paper The Guardian. "It is not going to be tawdry; it is going to be witty, clever, thoughtful and sad."
Article continues below advertisement
Um, they do know this is Anna Nicole Smith they're talking about, right?
Padmore does admit the show will be full of drama, and how could it not? Anna Nicole's life--the part of it lived in the spotlight anyway--was nothing but drama, following her even in death. But Padmore insists the production will not exploit the former Playmate's tragic mishaps.
"Just because a life has been in the tabloids does not mean it must be treated in a tawdry way on stage," she said, calling the show "a parable about celebrity and what it does to people...It will be a slice of our times--of America in the pre-Obama days."
Padmore has enlisted some of the British theater's top dogs, including composer Mark-Anthony Turnage and librettist Richard Thomas (who incidentally co-created Jerry Springer: The Opera).
There's a lot of stuff to cover; Smith's life was a series of erratic events, including her early years as a stripper, her marriage to an oil tycoon 63 years her senior, becoming a Playboy Playmate, starring in her own reality show, and her drawn out Supreme Court battle for her late husband's millions.
MORE ON:
Anna Nicole Smith
Article continues below advertisement
And all that happened before the events most people connect with Anna Nicole now: the suspicious death of son Daniel, the paternity battle over newborn daughter Dannielynn and her ultimate death from an accidental drug overdose in 2007 at the age of 39.
It's enough to fill three shows, but Padmore is staying mum on which parts of Smith's life she plans to highlight.
"In broad outline, it will tell the story of her life, the people who influenced her, her progress," she said. "Clearly the story is about a woman who met an ancient gentleman in a wheelchair, but it's not going to be a straight narrative; choices have been made about significant moments, selecting which incidents in her life are to be built up."
The opera is slated to run during the 2011 season.