NEWS
Anna Nicole's Friends Talk To OK!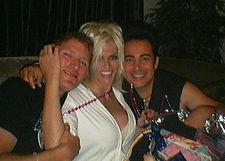 In the new documentary Final 24: Anna Nicole Smith airing Wednesday night on Bio, Patrik Simpson,a talent agent, and Pol Atteu, who owns Pol Atteu Couture, open up about their time with the ill-fated beauty. The pair recently chatted with OK! to discuss what made Anna Nicole so special. "Anna was a regular person and a real friend," Patrik explained to OK!. "She had a crazy media life and a fun life."
Article continues below advertisement
"She was a great mom," Pol, who in addition to being a near and dear friend to Anna also designed outfits for her, added. "One thing I respected was that she never forgot our daughter's birthday. She always remembered Mother's Day, Father's Day and our daughter's birthday."
The two, who appear quite a lot in the documentary, got involved with the project because they wanted to show that Anna's friends were normal people. "I think there's a lot of things people don't know about Anna," Pol told OK! "They only know the very salacious details. This shows the stuff we knew — the private, intimate details."
"We want to show that she wasn't a dumb blond. She was so smart, and she knew exactly how to manipulate the press," Patrik added.
To get more on their take, watch The Final 24 tomorrow night.
By Jocelyn Vena