NEWS
Anna Paquin Dating Stephen Moyer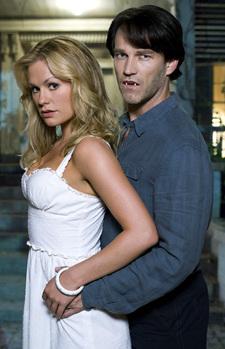 For any True Blood fan, the relationship between the show's lead characters, Sookie Stackhouse (Anna Paquin) and Bill Compton (Stephen Moyer) is about as hot as it gets--even by HBO standards!
Now, it looks like the actors have taken that chemistry from the scripted page to real life!
"We are together," Moyer confirmed to TV Guide Magazine. "It's just exciting and that was there from day one. "We always take the piss out of each other and are silly with each other and it is great. We're very, very happy. She's the best."
Article continues below advertisement
On the show, the tall dark and British Moyer, 37, plays a century-year-old vampire who has come back to live in a small Lousiana town and falls in love with the mortal and virginal Sookie (Paquin), a small town waitress with an ability to read people's minds.
In real-life, Moyer and Paquin, 26, are living together here in the states, however Moyer splits his time between L.A. and London, where he has two young children from a previous relationship.
The couple's real-life romance first sparked at the True Blood audition, but the pair decided to wait to go public. "The reason it was dodged last year was very intentional on both our parts," Moyer says. "It was very important to me that the cast and crew we were working with didn't feel it was fickle, and didn't feel it could possibly potentially encroach on our lives, you know, just like, 'Oh the two stars are having a thing.' We didn't want to take anything away from the show. The show is the star, not the two people having a relationship."