NEWS
Anna Wintour Didn't Allow Kim Kardashian at the 2012 Met Gala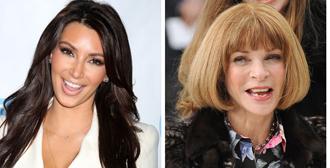 Article continues below advertisement
Sources at RadarOnline.com say that the Kardashian-less event was no coincidence — Anna Wintour didn't want the reality star attending the ball and forbade her entrance.
"Why would she be invited to the event? It is all the biggest stars in the world and Kim doesn't fit that bill at all," said the source. "The Met Gala is $25,000 a ticket, but Kim can't even buy her way in, Anna Wintour does NOT want her there!"
Instead, the Met was reserved for those who Anna and her camp see as real movers and shakers in the world of entertainment and fashion. Everyone from Marc Jacobs to Amy Poehler arrived in style and observed the the Elsa Shiaparelli and Miuccia Prada exhibit last night.
OK! GALLERIES: HOLLYWOOD'S A-LIST WOMEN COME OUT FOR 2012 MET GALA IN NYC
Kim, who was back in L.A., has no trouble landing the cover of Cosmopolitan or Glamour, but there's one famed ladymag that won't ever feature the curvy star.
"Anna Wintour would allow Kim Kardashian on the cover of Vogue over her dead body," the source says. "As long as Anna is in charge, you will NOT see Kim on Vogue."