NEWS
AnnaLynne McCord Could've Been a Nun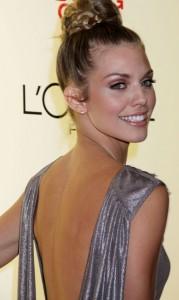 AnnaLynne McCord may be dating Kellan Lutz, but her dad would've preferred if she checked into a convent.
"I wasn't allowed to look at boys," the 90210 darling, 23, said Tuesday at Self Magazine's Women Doing Good event. "My dad wanted me to be a nun. He thought the whole thing where I didn't get married sounded good. He didn't know the whole concept."
Her love life wasn't always smooth sailing. In fact, it could be downright awkward.
Article continues below advertisement
"The first time I made out was after I moved out of my house and I was living in Miami," the actress, wearing Lipsy London, confesses. "There was no music. I was just like 'hey, would you want to make out with me?' and he's like 'yeah.' I was like 'cool.'"
Catch AnnaLynne on 90210, which airs Mondays at 8/7c on The CW.