NEWS
AnnaLynne McCord Talks "Lovely Action Scenes" in 'Blood Out' Featurette!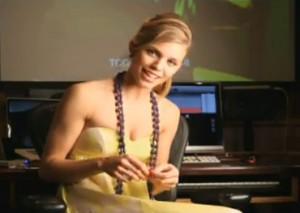 AnnaLynne McCord is taking on quite a different role than she plays in 90210 in the new film, Blood Out. The 23-year-old actress says there were a lot of "lovely" action scenes in the film that were a lot of fun to film!
OK! NEWS: ANNALYNN MCCORD — TRUE SOUTHERN BELLE AT HEART
Blood Out is about Michael Savion (Goss), a small town cop who loses his brother in a gang-related murder. After city police abandon the case, Michael takes it into his own hands and goes undercover.
Article continues below advertisement
Lionsgate is releasing Blood Out's debut on DVD and Blu-ray April 26. The film also stars Luke Goss, Vinnie Jones, Val Kilmer, Curtis "50 Cent" Jackson, Franklin Roberto "Bobby" Lashley, Ed Quinn, Ryan Donowho, Tamer Hassan and, of course, the lovely AnnaLynne!
"So Blood Out has a lot of lovely action scenes, which is definitely a fun part of my job," AnnaLynne says in an exclusive behind the scenes featurette clip. "I really love the physicality of the fight scenes, really being hands on and avoiding using a stunt-double if at all possible. There are some things that I know that I just can't do. But if I can do it, I'm in there and ready to do it myself."
"That's the fun we get to have as actors," she adds. "We get to blow things up and kick people and hit people and it's okay. We actually get paid for it at the end of the day! It's kind of cool!"
OK! NEWS: RECENTLY SINGLE KELLAN LUTZ SAYS HE'S LOOKING FOR A NORMAL GIRL
Pick up Blood Out on DVD April 26. It will also be available in Digital Download and On Demand!
Watch the exclusive clip below!
Watch the trailer for Blood Out below!