NEWS
Anne Hathaway Admits: "Lindsay Lohan and I Have a Lot in Common!" Wait, What?!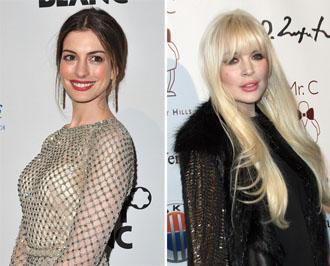 Anne Hathaway comes off as a good girl, but in reality, the actress says she's just as bad as one of Hollywood's most troubled stars. (No, we're not kidding).
"Lindsay Lohan and I have more in common than people think," Anne, who recently got engaged to Adam Shulman, tells The Sun. "We've all done things we shouldn't. It is just that I did stuff at college when nobody knew about it, so I'm not a saint. I wasted time doing self-destructive things."
Article continues below advertisement
OK! GALLERY: AN AFFECTIONATE ANNE HATHAWAY LOCKS LIPS WITH HER BEAU IN BEVERLY HILLS
Nowadays, Anne is one of Hollywood's good girls, staying out of trouble and keeping busy with work. "I found you can only dance on so many tabletops," she adds. "I got all that out of my system and I am healthy and grounded."
And Anne credits her mom for her upstanding behavior, saying, "My mother, Kate McCauley, taught me to be always understanding of other people — and to have a sense of humor about yourself."
Something else Anne has a sense of humor about? Weight. It's only a number in her mind!
"I know when people refer to me as a 'regular' girl, that it is a code word for 'fat' in Hollywood," Anne explains. "It is completely understandable, as a teenager, to fret about your body. It is scary, because you don't know how it is going to end up."
OK! NEWS: ANNE HATHAWAY IS ENGAGED TO ADAM SHULMAN
"But I am not a teenager any more and my body has chosen its shape," she adds. "I would rather be strong than skinny."Good for Anne! But do you really think she should be comparing herself to Lindsay?