NEWS
Anne Hathaway Bounces Back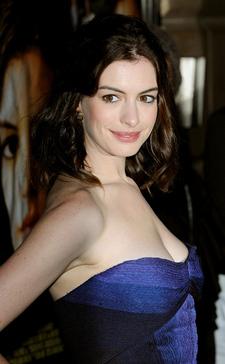 Anne Hathaway had barely finished filming her race-to-the-altar comedy, Bride Wars, last June when she faced a life-altering moment of her own: Her boyfriend of four years, Italian real-estate developer Raffaello Follieri, was arrested for fraud.
"It's a situation where the rug was pulled out from under me all of a sudden," she says. Rather than give up, Anne fought back by revving up her career even further, flaunting a sleeker physique — and brandishing a brand-new man.
Article continues below advertisement
Step one in healing her heartache? "Trying to move on and have a sense of humor," says Anne, who did just that with an Oct. 4 Saturday Night Live hosting gig. "I just had a busy summer. I did some traveling. I've got a new movie out, Rachel Getting Married," she deadpanned on the show. "Oh, and also, I broke up with my Italian boyfriend, and two weeks later, he was heading to prison for fraud. I mean, we've all been there — am I right, ladies?"
By then, Anne had already moved on. Later that month, she told London reporters, "This guy I know in L.A. is kind of doing it for me right now. When I think of sexy, I think of him." And on Oct. 29, she debuted her new beau, Dukes of Hazzard: The Beginning actor Adam Shulman, during a trip to New Orleans for a Rachel screening. "We met through mutual friends," Adam, 27, said.
In contrast to Raffaello who's serving a four-and-a-half-year prison sentence for wire fraud, money laundering and conspiracy, Adam is a stand-up guy. "He comes from a great family," Fred Gibbons, Adam's neighbor in L.A., tells OK!. "He is one of the nicest guys I have ever met."
Ultimately, Anne says, "Everything that has happened to me, good and bad, has happened for a reason. I've been made stronger from the good stuff and much, much stronger from the bad stuff."
For more on Anne and her new man, check out the new issue of OK!, on sale everywhere now!