NEWS
Anne Hathaway Gets Flowery in London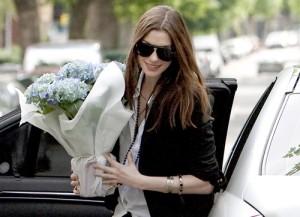 Anne Hathaway took a break from filming her latest role as Catwoman in The Dark Knight Rises to grab a bundle of blue flowers and head over to a friends house in London yesterday. Anne has recently began filming for the movie in which she stars alongside a star studded cast including Christian Bale, Tom Hardy and Joseph Gordon-Levitt!
Anne recently wrapped up filming for One Day where she stars with Jim Sturgess that is due out in August later this year.
Article continues below advertisement
Check out the One Day trailer below!