NEWS
Anne Hathaway Makes Statement About 'Dark Knight' Shooting; Victims' Names Released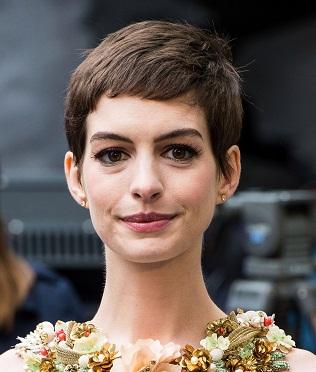 Anne Hathaway, who stars as Catwoman in The Dark Knight Rises, has made a statement regarding the shooting in Colorado.
"My heart aches and breaks for the lives taken and altered by this unfathomably senseless act. I am at a loss for words how to express my sorrow. My thoughts and prayers are with the victims and their families," she said.
Christian Bale and Christopher Nolan have also released statements.
Article continues below advertisement
A.J. Boik, 18: A.J. was a student and lacrosse player at Aurora's Gateway High School. He attended the movie along with his girlfriend and other friends, who escaped unharmed.
Jesse Childress, 29: Jesse was a staff sergeant in the Air Force Reserves, and had been on active duty with the 310 Force Support Squadron.
Gordon Cowden, 51: Gordon's family describes him as "a loving father, outdoorsman and small business owner, Cowden was a true Texas gentleman... a quick-witted world-traveler with a keen sense of humor, he will be remembered for his devotion to his children and for always trying his best to do the right thing." Gordon was in the theater with his two teenage children, both of whom escaped unharmed.
Article continues below advertisement
Jessica Ghawi, 24: An aspiring sports journalist who went by the name Jessica Redfield, professionally, had a brush with death shortly before the Dark Knight shooting at a Toronto mall last month. Afterward, she blogged: "I saw the victims of a senseless crime. I saw lives change. I was reminded that we don't know when or where our time on Earth will end. When or where we will breathe our last breath."
MORE ON:
The Dark Knight Rises
John Larimer, 27: Naval Petty Officer Third Class, he had served in the Navy since 2001. His commanding officer, Jeffrey Jakuboski, said: ""He will be missed by all who knew him."
Micayla Medek, 23: a student at Aurora Community College who was on track to graduate in 2015 and was admired by her family for her independence.
Matt McQuinn, 27: Matt, who worked at Target, attended the movie with his girlfriend, Samantha Yowler, and was protecting her from the gunshots when he was hit. Samantha was struck in the knee, but is expected to make a full recovery.
Article continues below advertisement
Veronica Moser-Sullivan, 6: Veronica was the only child of Ashley Moser, who is now in critical condition. Veronica's aunt, Annie Dalton, told reporters that she had just learned to swim.
Alex Sullivan, 27: Alex was an employee at the movie theater, and his birthday fell on the same day as the premiere. His first wedding anniversary with wife Cassie would have been Sunday.
Alex Teves, 24: Alex recently graduated with a master's degree in counseling psychology from the University of Denver. He was from Phoenix.
Rebecca Wingo, 32: Rebecca was the mother of two girls and a member of the Air Force, she worked as a translator after learning Mandarin Chinese.
Our thoughts and prayers remain with the victims' families.