NEWS
Anne Hathaway Says She "Called" James Franco After "Tasmanian Devil" Comparison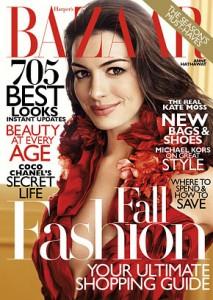 Anne Hathaway is a people pleaser and admits it's a part of her personality she needs to fix. But she disagrees with her Oscars co-host James Franco's comparison of her personality to a "Tasmanian devil." She'd prefer a "whirling dervish."
OK! VIDEO: WATCH NEW ONE DAY TRAILER STARRING ANNE HATHAWAY & JIM STURGESS
Anne was somewhat criticized after the Oscars for having too much energy, while James was criticized for appearing too sleepy.
Article continues below advertisement
James tried to defend himself on Late Show With David Letterman, saying, "I love her, but … I think the Tasmanian devil would look stoned standing next to Anne Hathaway."
"How did I take it?" Anne asks in the new issue of Harper's Bazaar. "I let James know that a whirling dervish is a more flattering comparison than a Tasmanian devil. I called him, and we e-mailed a bit."
"In the grand scheme of things, I got to have a once-in-a-lifetime opportunity," she adds. "I met great people, wore beautiful clothes. And I got to put on a show. I don't see a downside. Anyone who disliked my personality probably disliked my personality before the Oscars."
OK! VIDEO: WATCH JAMES FRANCO COMPARE ANNE HATHAWAY TO THE "TASMANIAN DEVIL" DURING OSCARS
But Anne admits that she aims to be a people pleaser and that's part of her personality she's trying to fix.
"There's something very addictive about people pleasing," she explains while talking about her previous relationship with Raffaello Follieri. "It's a thought pattern and a habit that feels really, really good until it becomes desperate. It's one of the reasons that relationship ended. I wasn't able to grow or foster anything. I think a lot of girls have that story. It's a big moment when you step away from that and say, 'I'm going to be exactly who I am. And I'm going to be brave enough to only be with someone who wants me the way I am.'"
But things are now going well with her current boyfriend, actor Adam Shulman.
"So far, it's worked out great," Anne says.
She is now trying not to get too caught up in romance in her relationships, she says. "It has its wonderful side, of course, but also it was exhausting, and sometimes it would freak me out. Mellow doesn't always make for a good story, but it makes for a good life."