NEWS
Anne Hathaway Signs On to Join Hugh Jackman in Les Misérables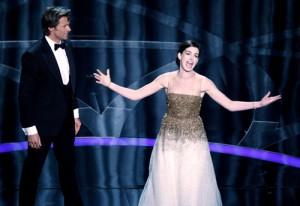 We've seen them sing together at the Oscars and now they'll be taking their act to the big screen! Anne Hathaway has decided to join Hugh Jackman in the musical film adaptation of Les Misérable.
The King's Speech director Tom Hooper will be taking on Universal Pictures and Working Title Films musical adaptation of Les Misérables next.
Deadline reports that Anne has finally closed the deal to join both Hugh and Russell Crowe in the film.
Article continues below advertisement
Anne is set to play Fantine, while Russell will play Inspector Javert and Hugh as Jean Valjean.
While hosting the Oscars this past year, Anne sang the song "On My Own" from Les Misérables in a spoof about Hugh bailing on returning the Oscar duet favor. The pair did actually sing together with Hugh hosted the show back in 2009.
Do you think they'll be good stars for this new film?
Watch a clip of Anne singing a parody of "On My Own," below!