NEWS
Anne Hathaway's Car Involved in Bike Accident or Bike Involved in Car Accident?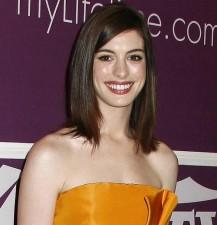 Anne Hathaway was involved in a minor car accident with a bicyclist Wednesday afternoon in Santa Monica, E! News reports. But it turns out that Anne and her boyfriend Adam Shulman, who was driving, were not at fault!
Adam was driving Anne in a black Audi when a bicyclist crashed into the side of the vehicle.
Anne and Adam were both unharmed and Freddy Ferraro the driver of the purple and pink bicycle sustained only minor bruises and refused medical attention.
Article continues below advertisement
Freddy Ferraro, 32, who was riding the purple bike with pink pedals, suffered only minor bruises and refused any medical attention.
Though the bicyclist told photographers he was okay and that Anne was caring and helpful it turns out he was talking to his colleagues. Freddy himself is a paparazzo and was later determined to have caused the accident.
No arrests have been made yet.