NEWS
Anne Hathaway's Ex Arrested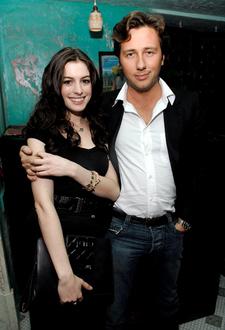 Raffello Follieri, Anne Hathaway's ex-boyfriend, has been arrested for fraud, U.S. authorities announced Tuesday.
The Italian businessman was charged with conspiracy, wire fraud and money laundering for spearheading a faux real estate project he claimed to be linked to the Catholic Church.
He is expected to appear at the U.S. District Court in Manhattan later today.
"It's a little premature at this time. I am hopeful we will be able to resolve everything," his rep says in a statement.
Article continues below advertisement
Raffaello lied to investors that his firm, the Follieri Group LLC, was aiding the Vatican in divesting unwanted U.S. real estate properties, going as far as to claim he was appointed financial manager at the Vatican and had met with the Pope.
In reality, the only thing the 29-year-old and his cohorts were investing in were their extravagant lifestyle, doling out the millions for high-end clothes, expensive meals and other services, according to the filed criminal complaint.
Raffaello has had other brushes with the law -- he was arrested in April for writing a bad check, but has since reimbursed it, and last year, billionaire Ron Burkle sued him for misusing $1.3 million in business funds.
Raffaello and Anne dated for four years. They split earlier this month.