NEWS
Anne Hathaway's Post-Oscar Thoughts: "Effortless Collaboration" & "In Love With James Franco"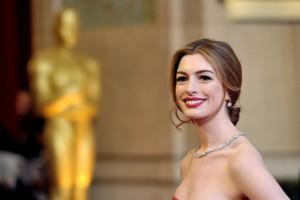 Whether viewers loved it or hated it, the real question is whether co-hosts Anne Hathaway and James Franco are smiling the morning after the show — and Anne is doing exactly that!
OK! GALLERY: OSCAR WINNERS PARTY WITH VANITY FAIR & YOUNG HOLLYWOOD STARS
One person who didn't have a bad word to say about the show was former Oscar host, Billy Cyrstal, who congratulated Anne at Sunday's Governor's Ball.
Article continues below advertisement
"I haven't really imbibed yet tonight, and I just thought, 'I can't do the press line without a little champagne,'" Anne told Access Hollywood with a glass in her hand!
"That felt really good. I didn't realize I was doing it for Crystal's praise, but it turns out I was because my heart just exploded," Anne explained. "We rehearsed together… the first thing I did was kneel before Crystal, and take his hand and the second thing I did was ask him, 'Tell me what to do,' and he said, 'Just look like you want to be there every single second that you are on camera.' I'm like, 'Well, I got that part in the bag,' because this whole thing has been such an amazing adventure and I feel like the luckiest girl in the world right now."
And she enjoyed every minute of it!
"I was working with the loveliest people, it was the most effortless collaboration that it never felt like work," Anne added. "I really mean it, it was an adventure. And I was so curious what was going to happen next, I had no idea what I was doing, so I was just really curious."
OK! VIDEO: ANNE HATHAWAY & JAMES FRANCO COMLETE OSCAR GREASE SONG RELEASED!
So what did she think of her co-host, James?
"I'm in love with James Franco. The world is in love with James Franco right now. He's wonderful, and thank God for him," she said. "He's so original, he's doing his own thing and he doesn't care about what anyone thinks about him, I really look up to him."
And the only bad moment she could think of was Melissa's f-bomb, but Anne enjoyed that.
"Melissa Leo, I salute you… Congratulations, first of all, and thank you so, so much for giving us fodder — we needed it for the rest of the evening," she told Access. "But, the evening went well, so it turns out we didn't need it so much."