NEWS
Anne V Talks Adam Levine & 'Sports Illustrated' Swimsuit Issue: "Every Single Girl Wants the Cover"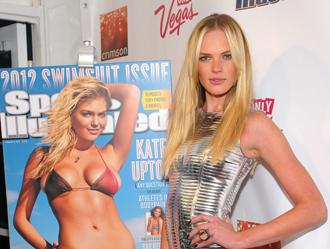 Despite breakup rumors this past week, supermodel Anne V and her boyfriend, Adam Levine, are still together. The Sports Illustrated swimsuit model shared exclusively with OK! how great it is to have her man support her.
At the Sports Illustrated Swimsuit Issue party in NYC last night, OK! asked Anne about Adam's Tweet, which said, "Just saw the cover of Sports Illustrated. One major problem...@AnneV isn't on the cover." She told OK!, "Aww, he's sweet. I mean, every single man wants it that way; every single girl wants the cover."
Article continues below advertisement
This year, Anne got to shoot in Seychelles, which she told OK! was amazing. "You know what? The best part is you start really early and you're done by like 9. Then you start again at like 3, and you're done by like 6, so you're, like, literally hanging on the beach all day long and then go and eat. Honestly, I sound so cliché, but Sports Illustrated makes your dreams come true. It's like a free holiday."
Will she keep doing the Swimsuit Issue? "I'm waiting for the 10-year anniversary; maybe they'll bring me a cake or something. I have a couple more years to go."