NEWS
Anthony Hopkins Enlightens on His 70th Birthday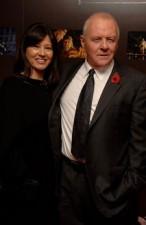 Happy birthday to Sir Anthony Hopkins, who celebrates his 70th today. He'll blow out the candles on his cake with wife Stella, 51, by his side.
I recently caught up with the Welsh actor/director at NYC's Regency Hotel, where he marveled about life in America.
"I was on Regis and Kelly, and they had this magic wheel," the Oscar winner tells me. "I said 'only in America, the land of entertainment.' I love America, but it makes me confused. My wife knows the Dalai Lama, and he said at one of the seminars in California 'I love America, but you Americans want enlightenment like this,'" Anthony says, snapping his fingers. "'We go through a lifetime wanting enlightenment but you Americans want it now. Maybe I'll try to give it to you in about 20 minutes.' I love that – we need it all now because we're a go-getting nation."
Article continues below advertisement
He says his work distracts him from the reality of growing older.
"We go into the entertainment field, because we ward off the inevitable that one day just behind us over our shoulders, the angel is saying 'your time's up.'"
It's important to enjoy life and all its blessings every day – especially on New Year's Eve.