NEWS
Anthony Weiner Twitter Scandal Gets the Stephen Colbert Treatment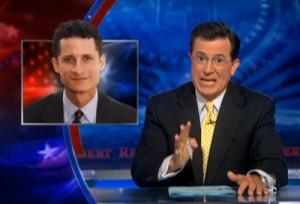 When a scandal breaks involving a politician, Stephen Colbert's job becomes that much more exciting. New York congressman Anthony Weiner has been in the news after an alleged photo of his crotch in underwear was Tweeted to a young woman from his account. So what does Stephen have to say about the whole thing?
"It's my duty to keep you informed about the swelling controversy that has cast a lengthy shadow over New York congressman Anthony Weiner, stretching the fabric of our national discourse and throbbing like a... " Stephen began last night on The Colbert Report, taking the use of puns to a whole new level.
Article continues below advertisement
OK! VIDEO: WATCH STEPHEN COLBERT SLAM SARAH PALIN'S "RESTORATION OF AMERICA" BUS TOUR
After introducing the topic on his show, Stephen then posed to his audience: "Is this or is this not Representative Weiner's chief of staff?" he asked, showing the pic in question.
Regardless of how Weiner's story unfolds, as long as there is a scandal to debate, both Stephen and his fellow political satirist pundit Jon Stewart are very happy hosts.