NEWS
Watch Stephen Colbert Slam Sarah Palin's "Restoration of America" Bus Tour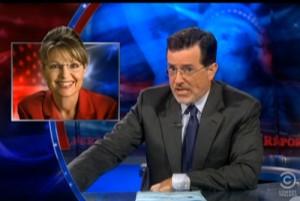 Sarah Palin is busy fueling rumors of a presidential run as she currently is on a bus tour across America with her family. Sarah's current publicity jaunt has many speculating her motives, in particular political satirist Stephen Colbert who questioned last night on The Colbert Report — "Why is this happening?"
According to Sarah's website, which Stephen pointed out, the former governor of Alaska is promoting "the fundamental restoration of America."
Article continues below advertisement
She is blogging her journey and gaining inspiration from her family.
Sarah even commented that her youngest daughter Piper has been filled with the spirit of their journey, in particular with the work of George Washington, who worked "so hard to keep his farm running."
"It's true," Stephen agreed. "I cannot imagine how hard he worked with no help other than his African volunteers."
Sarah just participated in the annual "Rolling Thunder" Memorial Day holiday weekend rally, in which tens of thousands of motorcyclists, many driving iconic Harley-Davidsons, ride through the nation's capital to honor U.S. war veterans.
Catch Stephen slam Sarah in the clip, via TV Squad, below!