NEWS
Anthony Weiner's Wife Huma Abedin Is Pregnant With Couple's First Child, Report Says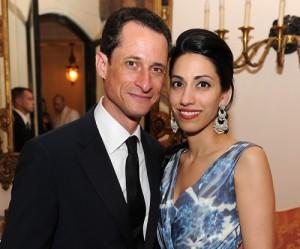 After an online sex scandal catapulted their marriage into the public spotlight, it has just been reported that Rep. Anthony Weiner's wife, Huma Abedin, is pregnant with their first child.
Weiner admitted during a press conference Monday to conducting online affairs with several women after a Twitter picture surfaced of him in boxer briefs, and now The New York Times is reporting that the Congressman from New York is on the verge of a different personal announcement.
Article continues below advertisement
"Ms. Abedin, 35, is in the early stages of pregnancy," the NYT reports, attributing their findings to "three people with knowledge of the situation."
Reportedly the couple have only announced their pregnancy to family and close friends.
During his press conference on Monday, Weiner made it clear that he and his wife have no intention of splitting up, despite the fact that he engaged in some cyber infidelity during their marriage.
"We will weather this," he said Monday, during his teary-eyed address. "I love her very much, and she loves me."
The baby may be a main reason the couple has decided to work through this issue.
Huma has been a longtime aide to Hillary Rodham Clinton, and has not opened up about her husband's indiscretions.
According to the NYT, she departed for a trip to Northern Africa with Hillary today.