NEWS
ANTM Contestant and Rocker Boyfriend Arrested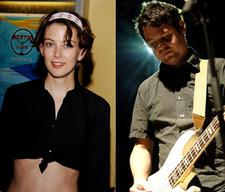 America's Next Top Model cycle one contestant Elyse Sewell and Shins keyboardist Martin Crandall dated on and off for more than four years, but it was an explosive incident on Jan. 4 in Sacramento, Calif., that ended their love affair for good.
According to Sewell's livejournal, the incident erupted after Crandall refused to help her carry the couple's luggage into their hotel room. She posted pictures of a bruised arm on her Web site, claiming that Crandall caused the injury. Crandall, in turn, claimed that he was the victim of assault, citing bite marks on his arm. He had Sewell arrested and she spent a night in jail.
Article continues below advertisement
Sewell wrote that "this is not the first time. But it is the last."
Crandall spent the weekend in jail but was released on Sunday. The case will be heard in court tomorrow.