NEWS
ANTM's winner McKey speaks!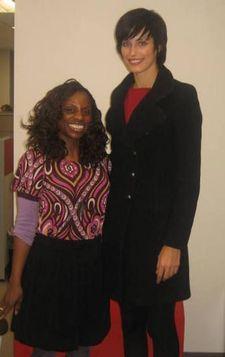 Winning the 11th cycle of America's Next Top Model wasn't easy McKey Sullivan revealed to me when she stopped by the office last Thursday.
There was all that gross kissing and stuff.
"We all have boyfriends at home that we haven't seen in months, and they are telling us to kiss these dudes, ewww oral herpes much," she declared.
McKey took sanitary action into her own hands after both her model make out sessions. "I went to the back where I had hand sanitizer and whipped in on my mouth."
Article continues below advertisement
Yes, even after locking lips with supermodel Mark Vanderloo.
"Mark Vanderloo is old," McKey, 19, chuckled. "He was over twice my age. That was inappropriate!"
Luckily, what was appropriate was the way McKey handled herself in the model shoots. Throughout the competition, the judges heaped praise on the student from Lake Forest, Ill.
Surprisingly, McKey wasn't sure she had the win in the bag.
"I knew I was going to stay until the second round," she shared. "I thought, if someone was going to be voted off first, it would be somebody who wouldn't be able to show they could attentively listen and show promise to improve, and I knew I could do all those things. But after that, I didn't know what to do with it."
The "it" came again and again as the mixed martial arts boxer who hopes to be a neo-natal surgeon someday, gave the judges a knockout photo in virtually every shoot.
And she won't be hanging up her gloves just because she won this competition.
"I won't be competing because I don't want to get hit, but I practice with the boys. It keeps me lean. My toe nails are a mess, but I'm never going to be a foot model anyway."
Somehow, if you wanted to do it McKey, I think you'd pull it off.