NEWS
ANTM's winner Whitney Thompson talks!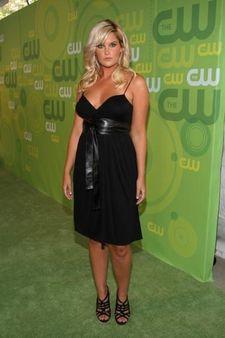 Whitney Thompson snagged the title of America's Next Top Model in last night's season finale. While there's no doubt the 20-year-old student from Atlantic Beach, Fla., is thrilled over the $100,000 Cover Girl contract, that's not the reason she did the competition.
"It's for my 13-year-old cousin who thinks that she's fat and for the 46 percent of all nine- year-old girls who are on a diet," said Whitney, who is the ANTM's first full-figured model winner. "I see so much of myself in her, and to hear her say, 'Oh, I'm so fat,' – what is wrong with our society?"
Article continues below advertisement
It's a mindset that Whitney is determined to change. "I want to get out in the open that I'm not big, I'm healthy," she shared during a private Seventeen magazine VIP screening of the show's finale last night in New York City.
"Why am I considered plus-sized? That's not OK. We're raising our entire society to believe that emaciated women and men are cool and that's what we're supposed to look like, but those people aren't healthy. Those people die too, so it's just as bad as being obese."
During the competition, Whitney's biggest gripe from the judges was that her personality often came across fake. "How would you react in front of Tyra Banks and Nigel Barker. They're criticizing you and you are just smiling and saying, 'Thank you. May I have another?'" she exclaimed. "I think maybe they saw something, but that's not me."
Whitney became best friends with runner-up Anya Kop, and has made up with her house nemesis, fourth place finalist Dominique, who accused Whitney of being a racist. "Egos crash. In hindsight, it was dumb," Whitney said. "Looking back, we had this bonding experience being on the show which no one else will understand. We connect so much better now."
Whitney, who is "so excited" to be this season's Top Model, is glad she no longer has to keep her title a secret, which she's obligated to do during the show's run. "I didn't even tell my mom. It's a $5 million-dollar lawsuit if you do," she laughed.