NEWS
Antonio Banderas Reveals the Secret to a Passionate Marriage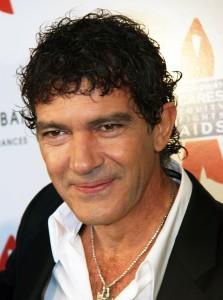 Meeting his wife on set of the 1995 film Two Much, Antonio Banderas reveals his secret for a healthy, happy, and passionate marriage to fellow actress Melanie Griffith.
"The secret is to believe. To believe that after a crisis for example, you're going to get stronger. To be passionate, believe me, is not a bad thing. It is a very underrated virtue. Very," Antonio gushed to reporters at the launch of his new fragrance "The Secret by Antonio Banderas."
Article continues below advertisement
"But, it holds big virtues. If you don't have passion, all of these big virtues fall apart. But, if you do all of this can shine. So, passion with each other."
After being together for almost fifteen years, Antonio explains that his relationship with Melanie, 52, has only gotten better over time.
CAMERON, MIKE, ANTONIO TOUT 'SHREK FOREVER'
"You can start reading the other person in a different way. It's providing you with a totally different pleasure than the beginning of the relationship," the Zorro star said in NYC, "People are looking for all the time, the sensation, the pink kind of world, well that changes. But the good news is that it can change for the better."
Claiming that he has "tried" to master the art of impressing a woman, Antonio thinks that knowing how to read a lady is not as easy as it used to be.
ANTONIO BANDERAS SHAKES HIS MONEYMAKER
"It's really difficult to know in our days to know what you have to do to impress a lady. They're not as impressible as they used to be. Everything's out there right now. In the old days, there was probably a second factor of behavior, things that you could do. I don't know. I think the problem is that you have to read them…It's a very interesting game and very difficult."
And, while he is not wooing his wife and creating sensual fragrances, the 49-year-old actor is still busy at work as he plans to return to Broadway next year with the Greek play Zorba.
"It is a very strong possibility that I'm coming back to Broadway in September 2011.
Melanie and Antonio, married since May of 1996, have one daughter, Stella.
Reporting By Rachel Levine