NEWS
Antonio Banderas Shakes His Moneymaker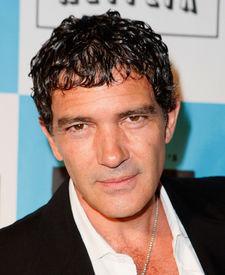 Antonio Banderas reluctantly dances the salsa during the launch of Blue Seduction For Women held at Cedar Lake in NYC. He has announced $1 from each package purchased will go to Broadway Cares/Equity Fights AIDS.
As stars of the Tony-award winning musical In The Heights team up with kids from Broadway Cares, a dancer calls out, "Antonio Banderas is welcome to join us if he would like."
He sits for awhile, and then summons the courage to hit the stage, leaving wife Melanie Griffith perched at his table in the front row.
Article continues below advertisement
Antonio gives a young girl a twirl on the dancefloor, before awkwardly falling into line with the other hoofers. His amateur dance skills only add to his charm.
The father of one is well-aware that his do-gooding may seem disingenuous.
"I went to Somalia before, and some may say 'you are doing this to raise your image,'" he says. "Just to make yourself better in the eyes of everybody. You know what? It doesn't matter. Imagine that I do it for that, or that all those people do it for that reason. The kids in Somalia, the kids that I see in the Bronx – they're not going to ask you why you're doing it. They're not going to say 'oh you're doing this to make yourself look better in the eyes of the people.' They don't care. They take what they need. They take the medicine, they take the education, they take whatever they need. The morality behind that? I have in my heart and I know why I do it. And that is enough. For the ones who don't believe it, fine. But those kids are going to receive the help. That's the most important thing."
What does Melanie love most about Antonio?
"Everything!" she says. "Everything."
It's dessert time as mini ice cream cones and chocolate truffles delight. Ooh, gift bag time. We have Blue Seduction For Women and a CD from the musical In The Heights. All right...