NEWS
Antonio Banderas "Very Happy" for Brad & Angie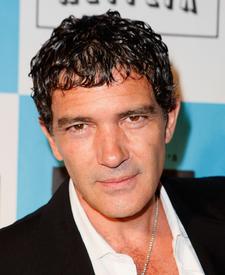 With twins on the way -- making a total of six kids -- life's going to be a handful for Angelina Jolie and Brad Pitt, but Antonio Banderas has some advice: Try your best.
"Try your best, man, because when the kids come to the house, they become the kids and you are not anymore," the actor tells OK! at the launch of his newest fragrance, Blue Seduction For Women.
The 47-year-old, who's a dad to Stella, 11, with wife Melanie Griffith, and a stepfather to Alexander, 23, and Dakota, 18, adds that he's "very happy" for the parents, both of whom are former co-stars. Antonio and Brad starred in Interview with the Vampire while he steamed up the screen with Angelina in Original Sin.
Article continues below advertisement
"I know both of them, they are my friends," he says. "They are very happy together and they are going to have kids."
But one coupling he's in the dark about is the alleged affair between his Evita co-star Madonna and New York Yankee hot shot Alex Rodriguez.
"I don't know how Madonna's doing," Antonio says, adding that he hasn't spoken to her. "I wish the best for them if they are together."
By Valerie Nome