NEWS
Arcade Fire Under Siege for Grammy Win; Backlash From Twitterverse & Rosie O'Donnell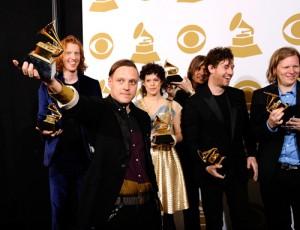 Who is Arcade Fire? That seemed to be a popular question last night after the band took home the Grammy's top honor Album of the Year, for The Suburbs. The Twitterverse imploded with questions about the band's unlikely win against heavy hitters like Lady Gaga, Katy Perry, Lady Antebellum and Eminem who were also nominated in the category.
Everyone's confusion over the indie group's win led to the foundation of Tumblr microblog titled "Who Is Arcade Fire?" pulling in some humorous reactions.
Article continues below advertisement
Two Tweets which caught our eye came from Rosie O'Donnnell and reality star Duane Lee "Dog" Chapman, from A&E's series Dog the Bounty Hunter.
Dog's Tweet echoed Rosie's.
Kanye West, surprisingly seemed happy with the band's win, simply Tweeting Arcade's Twitter hashtag.
What do you think of the backlash Arcade Fire and Best New Artist, Esperanza Spalding are receiving? Is it unfair? Should we be happy different genre's like jazz and indie rock are being thrown into the forefront of the music scene?
Share your thoughts in the comments.