NEWS
Are Brad Pitt's New Orleans Houses Making it Right?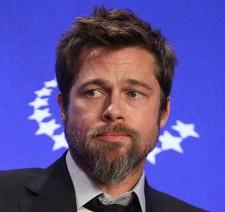 Brad Pitt wanted to help the victims of Hurricane Katrina when he launched the Make it Right Foundation, to build homes in New Orleans' blighted Lower Ninth Ward, but it appears the brightly-colored buildings aren't as popular as he'd hoped.
James Dart, a Manhattan-based architect who was born and raised in The Big Easy, labels the houses as "Alien, sometimes even insulting," adding, "the biggest problem is that they are not grounded in the history of New Orleans architecture," reports PopEater.
Article continues below advertisement
But Dart still expresses admiration for Brad, 46, saying, "He deserves a great deal of credit," adding that Pitt had "done more for New Orleans" than any government agency.
The father-of-six set up Make It Right in 2007, after being frustrated by the snail's pace of rebuilding in the Lower Ninth Ward, which was destroyed by Hurricane Katrina in 2005.
The foundation commissioned 13 architecture firms to design affordable eco-friendly houses. Brad plans to build 150 homes, all for returning Lower Ninth residents. The majority of the buildings are still under construction.
The structures, known as the Brad Pitt Houses, are on the main route into the Lower Ninth and are brightly-colored, modernized alternatives to the traditional New Orleans home.
Jennifer Pearl, a broker who has several houses for sale in the Lower Ninth, says, "Brad has the very best intentions. However, had he come here with houses that looked like what had been here before, he probably could have had four times, five times as many houses up by now."
There is a problem with the houses' height too: they are built on stilts to protect them from future floods, but neighbors feel overshadowed by them.
"It's like New York, you know, the skyscrapers," says one neighbor who lives in a single-story house next to one of the much larger Make It Right creations. "And there are going to be more."