NEWS
Are Denise Richards and Charlie Sheen Getting Back Together?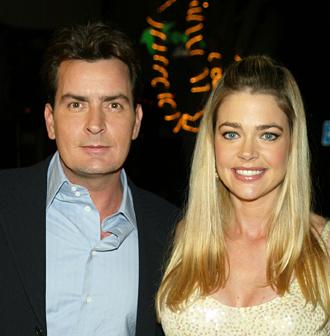 It was well-documented what a messy divorce Charlie Sheen and Denise Richards had when they first split up in 2005.
But now that many years have passed, and they have begun to take vacations together, it seems like Charlie and Denise are growing closer.
OK! NEWS: DENISE RICHARDS AND RICHIE SAMBORA CALL IT QUITS
Denise appeared on Access Hollywood Live yesterday, and Billy Bush and Kit Hoover asked what she thought when she hears that Charlie talked about how hot she is and called her a "stone cold hammer."
Article continues below advertisement
Denise says, "He has no filter and som of the stuff that comes out of his mouth is obviously very funny."
But does she think that Charlie wants her back? Denise is newly singler after a split from boyfriend Richie Sambora just last week in Nashville.
The actress laughs and says, "No, I don't think so. I am way too old for him. laughs. He likes 20-year-olds."
But they are obviously getting in a lot family time with daughters Sam and Lola, taking trips together and visiting him on the set of Anger Management, where Denise will also guest star.
OK! NEWS: DENISE RICHARDS AND CHARLIE SHEEN WILL REUNITE ON ANGER MANAGEMENT
"That is the best thing for us and our daughters. They got to see dad at work. A lot of people think it is bizarre that we go on trips together, but we have such a good relationship and it's wonderful for our daughters. We are making the best of being a divorced couple."
And shockingly after all they have been through, Denise raves about him as a dad.
"He is great as just being a funny dad and being on the ground on with them. He loves to play with them and he just went swimming with them this weekend."
Do you think Denise and Charlie will get back together?