NEWS
Are the Desperate Housewives Racist?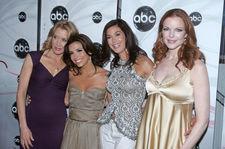 Between the catfights, cheating and dead bodies, the ladies of Wisteria Lane have never been known to be the politically correct types, but a joke on a recent episode of ABC's hit show Desperate Housewives has many viewers expressing their disappointment.
On last Sunday's season premiere, 's character questions her ob/gyn's medical knowledge by asking, "Can I check these diplomas? Just to make sure they aren't, like, from some med school in the Philippines?''
Article continues below advertisement
Immediately following the show, the network was flooded with complaints, and the Associated Press is reporting that over 30,000 people have signed an online petition demanding an apology. And it must have worked because the show's producers and the network issued an apology on Wednesday. ''There was no intent to disparage the integrity of any aspect of the medical community in the Philippines,'' reads the the statement. ''As leaders in broadcast diversity, we are committed to presenting sensitive and respectful images of all communities featured in our programs,'' it concluded.
This isn't the first time Desperate Housewives has found itself at the center of a scandal. In its first season, the NFL ran an ad featuring a towel-draped accosting football player in his locker room. The brief TV spot caused an uproar, some say because of its overt sexuality while others claim that a very vocal minority disapproved of the image of a white woman and an African-American male.