NEWS
Aretha Franklin Slams Beyoncé's "Cheap Shot"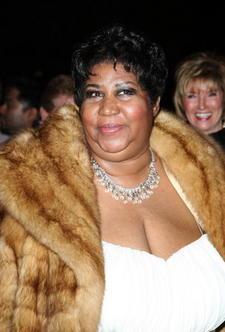 Unchallenged Queen of Soul Aretha Franklin doesn't play second fiddle to anyone — and she's letting Beyoncé and the folks behind Sunday night's Grammy broadcast know it.
When Beyoncé took the stage Sunday night to introduce music legend Tina Turner, she not only included Aretha's name in a list of famous female singers who apparently don't measure up to Tina's brilliance, but then she ended her intro by exhorting the crowd to "Give it up for the queen!"
Article continues below advertisement
Oops.
Aretha, who would later perform as part of a presentation of great Gospel acts, released a statement Tuesday expressing her discontent. "I am not sure of whose toes I may have stepped on or whose ego I may have bruised between the Grammy writers and Beyoncé,'' reads the statement. ''However, I dismissed it as a cheap shot for controversy.''
Ouch.
Apparently Aretha wasn't feeling in a complete "off with their heads!" mood as the Grammy winner ended the statement by thanking the Academy for her 20th trophy and saying "love to Beyoncé anyway."