NEWS
Armie Hammer on Licking Julia Roberts' Face in 'Mirror Mirror': 'I Tried Not To Drool!'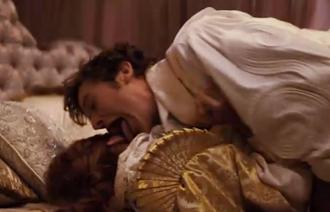 Everyone is comparing Lily Collins to Kristen Stewart when it comes to Snow White, but in actuality, the two films they're starring in are totally different. How do we know this? Well, let's just say Armie Hammer's character gets to lick Julia Roberts' face in Mirror Mirror. We just can't imagine what would happen if Chris Hemsworth were to lick Charlize Theron's face in Snow White and the Huntsman.
Article continues below advertisement
"I don't even remember, honestly," Julia tells Access Hollywood's Billy Bush when asked how many times Armie licked her face. "I was so worried about this enormous tree of a man vaulting through the air onto me on this bed, and I didn't want my wig to come off!"
Well, Julia might not have remembered, but Armie did. "I got in like five or six good licks," Armie tells Billy, adding, "she smelled of apple cinnamon, man!"
Article continues below advertisement
We guess Armie didn't drool!